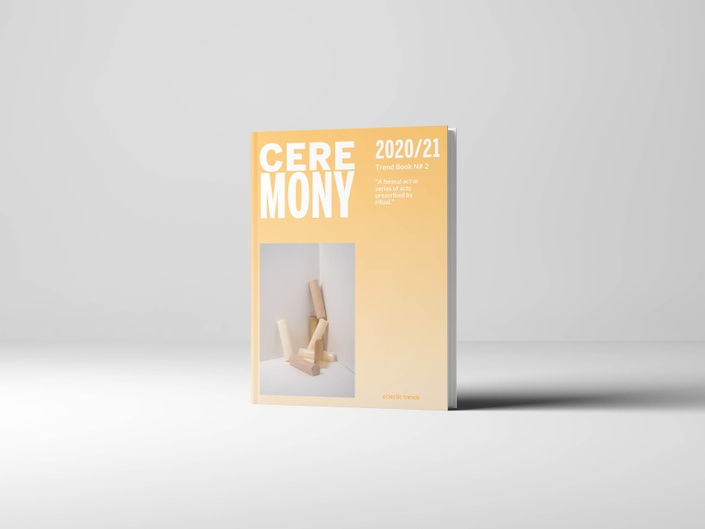 Downsized Version - Trend Report CEREMONY 2020/21
The Holistic Well-Being Trend Report Inside And Outside Our Home
Watch Video
Learn through 138 pages what 'Meaningful Design' is, and why it matters today more than ever.
Let's be honest.
Trends are on vogue. Everybody talks about trends.
---
How many trend reports have you read where 'trends' are reduced to colors, materials, and shapes only?
These are features.
It is easy to have access to future materials or color directions. But applying colors does not necessarily mean you work in the right context, understand the emotion they convey, and how we purchase consumer goods.
Do you know the no.1 reason why many individuals consider trends are immediately outdated?

When working with features only, you will scratch the surface of design opportunities, and risk to offer what anybody else already has in store.
You will lose the potential a trend report can offer you: understand your client, his needs, empathize, and provide solutions.
An in-depth study of a Micro Trend, however, gives you information about THE WHY of a trend, including shifts of values and needs of end consumers. Colors, materials, and shapes are a translation but not a trend in itself.
---
I. WHY DID WE RESEARCH ON 'CEREMONY'?
The reason why we have created this report is to underline how widespread the need for a more balanced life in today's society is.
We all (including our clients, friends, family members, and the Eclectic Trends team) have noted an increasing shift towards JOMO - the joy of missing out.
CEREMONY shares inspiring projects and data to reflect the need for meaningful design within the interior and design field. We take a closer look at concepts such as self-care interiors, holistic well-being, and mindful practices.
Furthermore, the report observes what Good Design means today, and how analog and digital care can live side by side.
II. WHAT MAKES 'CEREMONY' SPECIAL?
The Trend Report addresses the moment we live with a need to counterbalance the chaos many individuals feel.

We all can somehow resonate with CEREMONY.

The overall well-being for humans becomes the center of attention where rituals are often a useful and essential tool helping one's body and soul to find peace of mind.

By focusing on personal growth, transformation, and healing, individuals want to generate a beneficial state of mind that can be shared and spread after to the world inside and outside our homes.

Our home and lifestyle will need to provide solutions to unwind, detox, and allow for inner reflection.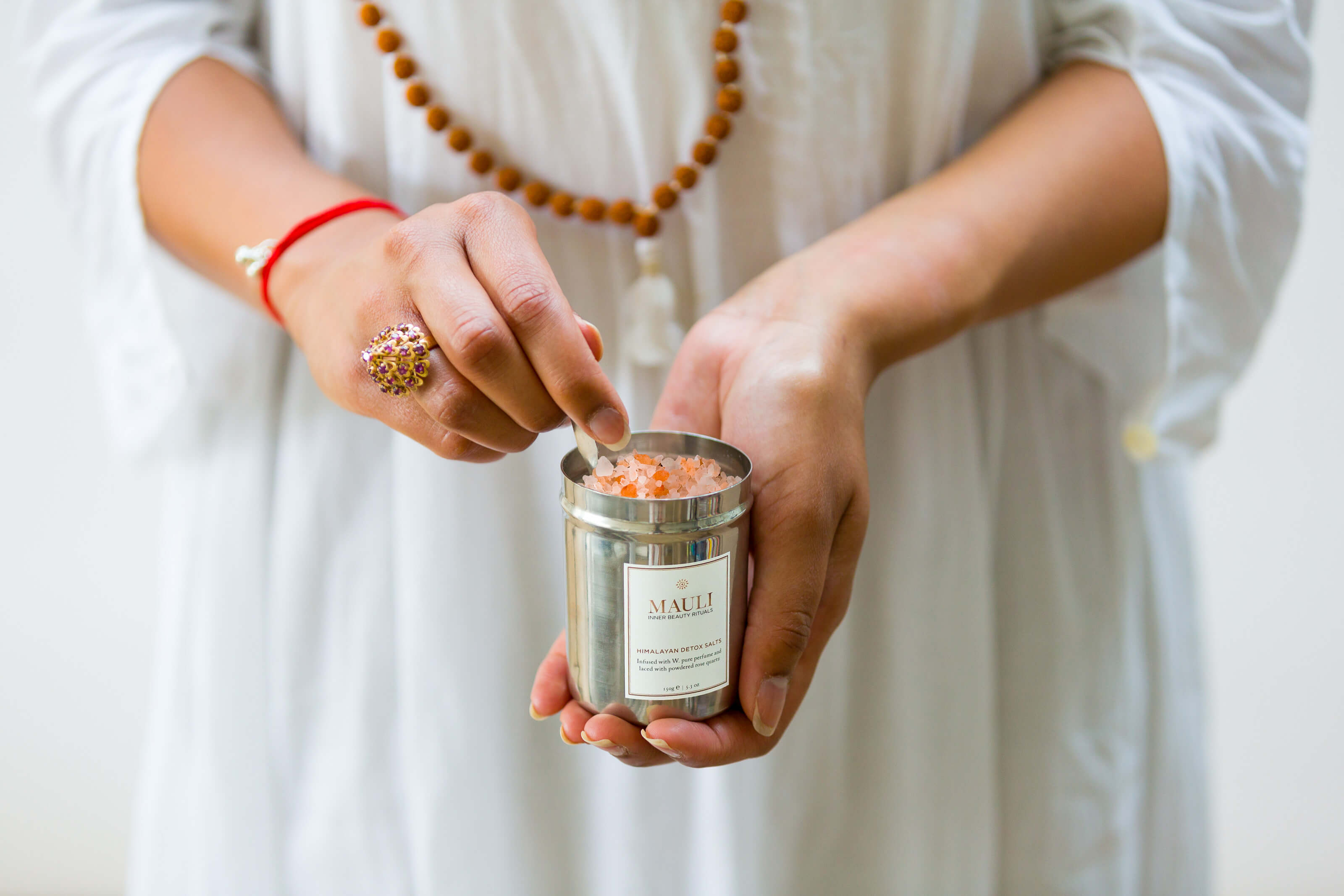 Mauli Rituals
III. WHAT IS 'CEREMONY' EXACTLY?
'CEREMONY' is a digital Trend Book. It comes as a downloadable ebook and includes several bonuses. We have created two versions.
You can dive into a more in-depth analysis (including three bonuses) or read the downsized version (including one bonus).
IV. WHAT IS 'CEREMONY' OFFERING ME?

As a result, we have put together 138 pages in this complete digital edition represented through
Key Visuals of many inspiring projects
One Color Palette with Pantone color codes
Consumer Expectations so as a brand you can act upon it
How to Translate Design Features to make sure to translate relevant messages properly
A few Statistics to understand what drives a large percentage of end consumers today who relate to CEREMONY
V. BONUS
The digital Trend Book includes Printable Worksheets.
We like to make our products as useful as possible.
Therefore you will find worksheets to anchor the learnings, get a more memorable experience and craft right away a briefing for your colleagues, providers, or yourself.
VI. NOW, HOW CAN 'CEREMONY' HELP ME?
1. Would you like to become a partner with your end consumer and stop being considered as a brand which sells products and services only?
The definition of well-being expands, including an understanding of a more 'holistic health'; you will create a loyal relationship with your consumer base if you master that point.
2. Consumers are increasingly motivated to take charge of their 'holistic health'.
But what is 'holistic health', and what design and services are already on the market? How can I offer added value as a brand or designer?
3. 'Meaningful Design' is the new watch-word, and Good Design is redefined.
How can I contribute to creating a more 'meaningful Design,' and why does it matter?

4. We live in an ever-changing society. Do you feel it gets hard to keep up?
The forecast helps you
develop a confident speech
to defend arguments within your corporate structure or in the presence of your clients
find ideas for new product lines
hone your communication skills
understand under-lying patterns of societal structures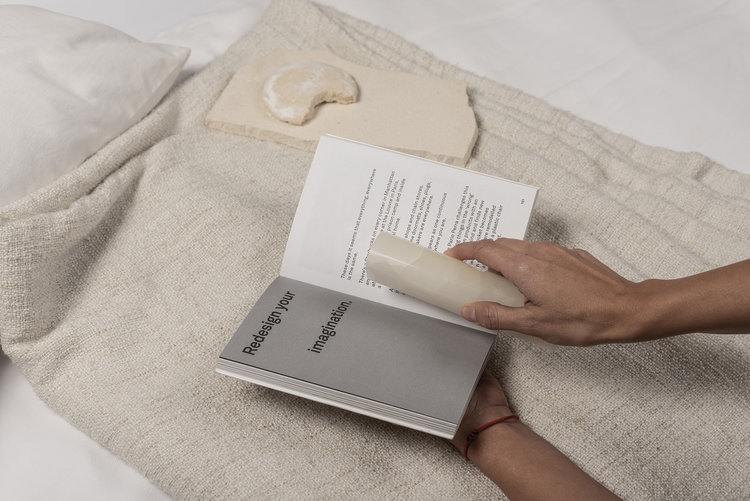 Peca
VII. WHO IS IT FOR?
CEREMONY is thought for everyone interested in knowing how our society reacts to shifts such as the pursuit
towards a more balanced life
a new understanding of health
the aim to integrate analog experiences
the wisdom of ancient celebrations
rituals
spirituality today
the rise of self-caring interiors
Also, if you identify within a broad spectrum of designers, marketing experts, color specialists, material experts, purchase departments, bloggers, journalists, researchers, and teachers, then we consider this Trend Report is for you!
VIII. WHO IS IT NOT FOR?
CEREMONY tackles issues of how to find balance showing inspiring projects and experiences. However, we do not aim to offer a self-help book:)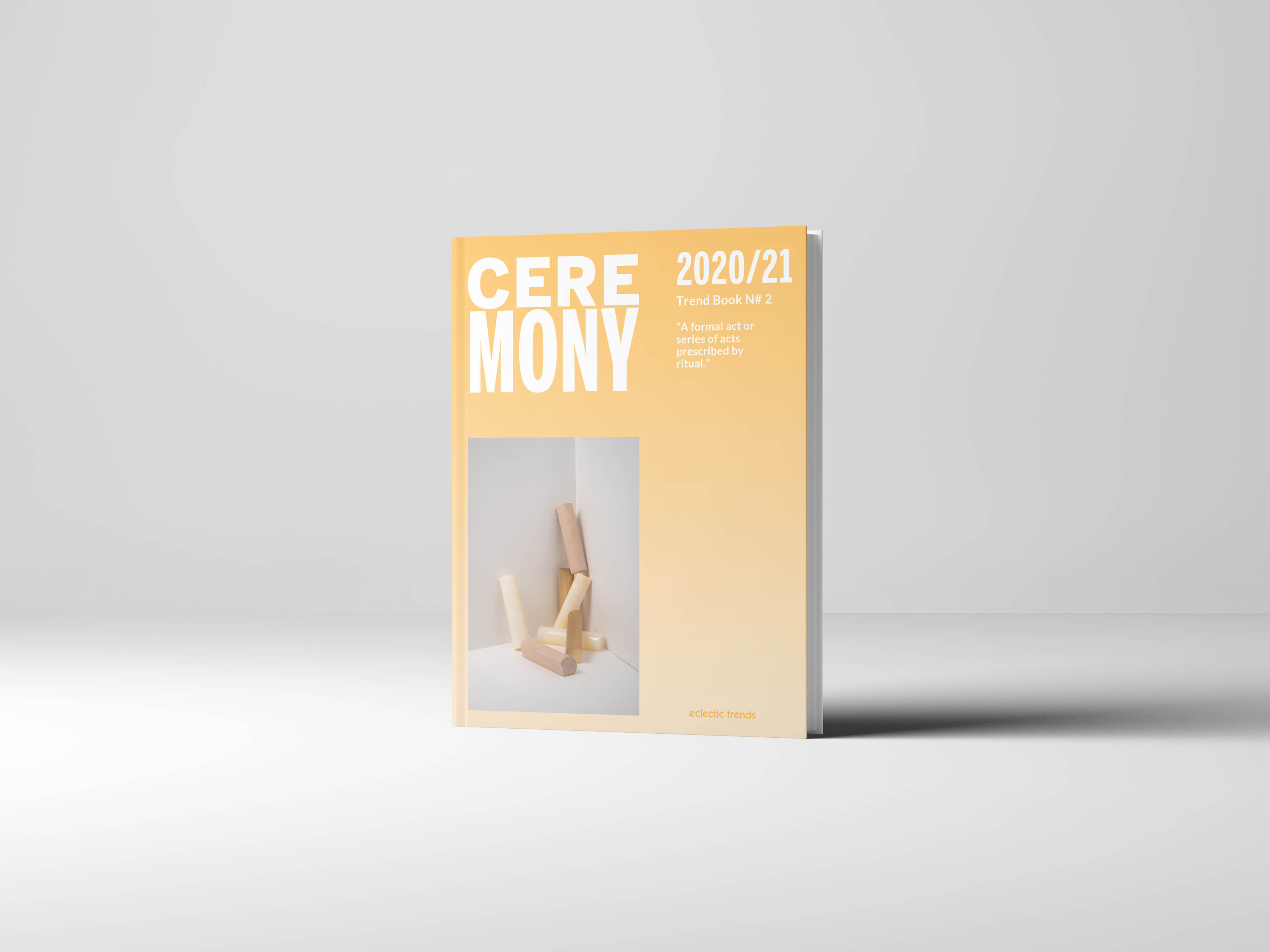 KIND WORDS
"I have been following Eclectic Trends for years now. And while they provide a tone of amazing free content, the trend reports take the applicability to a whole new level.

A trend study makes everything much more applicable, and the workbook helps you internalize the concepts. This tool, once completed, can be a creative direction to hand over to a designer or a starting point for your process.
I have also understood much better the social dynamics behind the trends and their importance in communication. It's not only about the color or shapes, but in a high degree about the shared values."
Valentina Albaek | Owner Fabgoose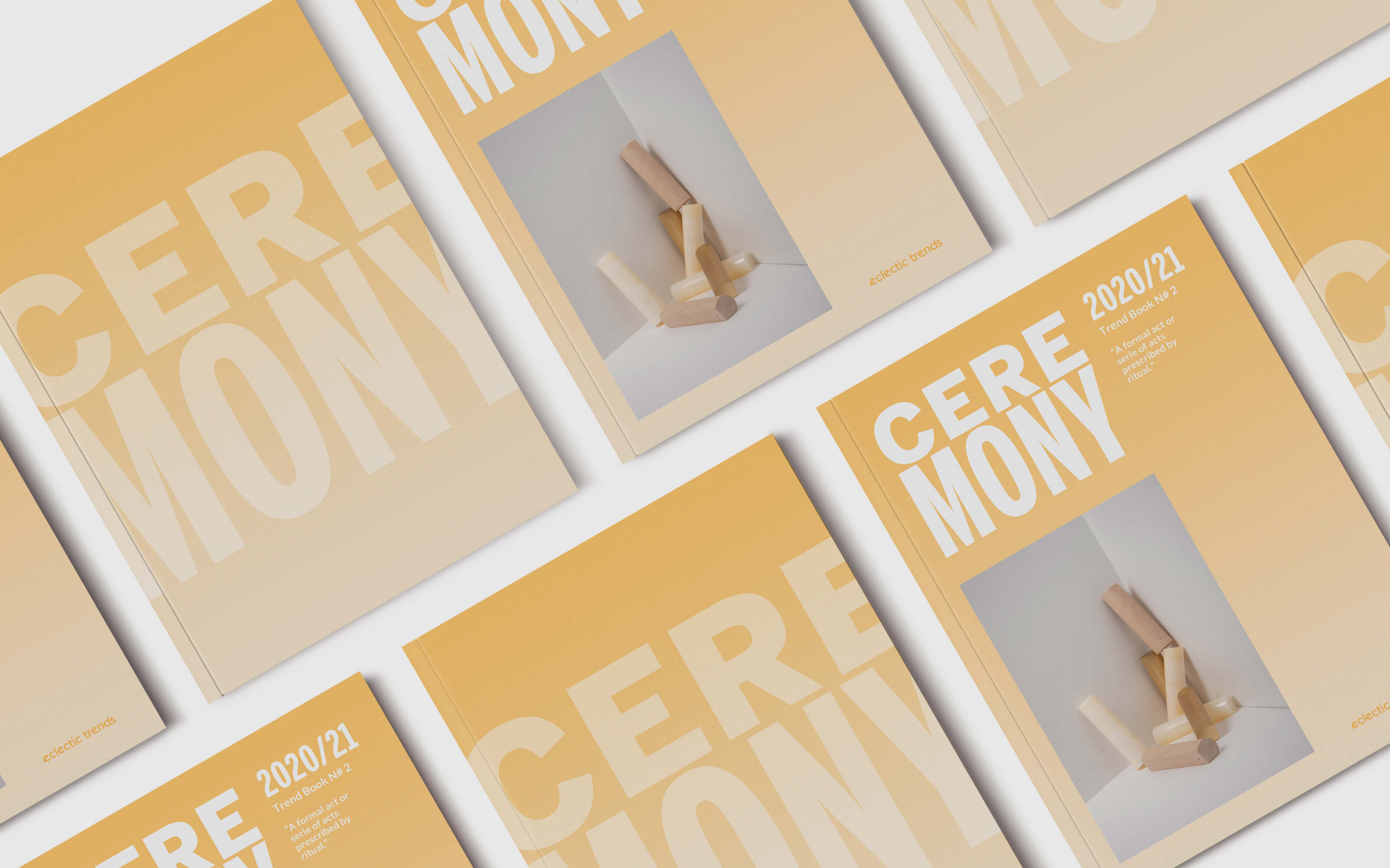 Eclectic Trends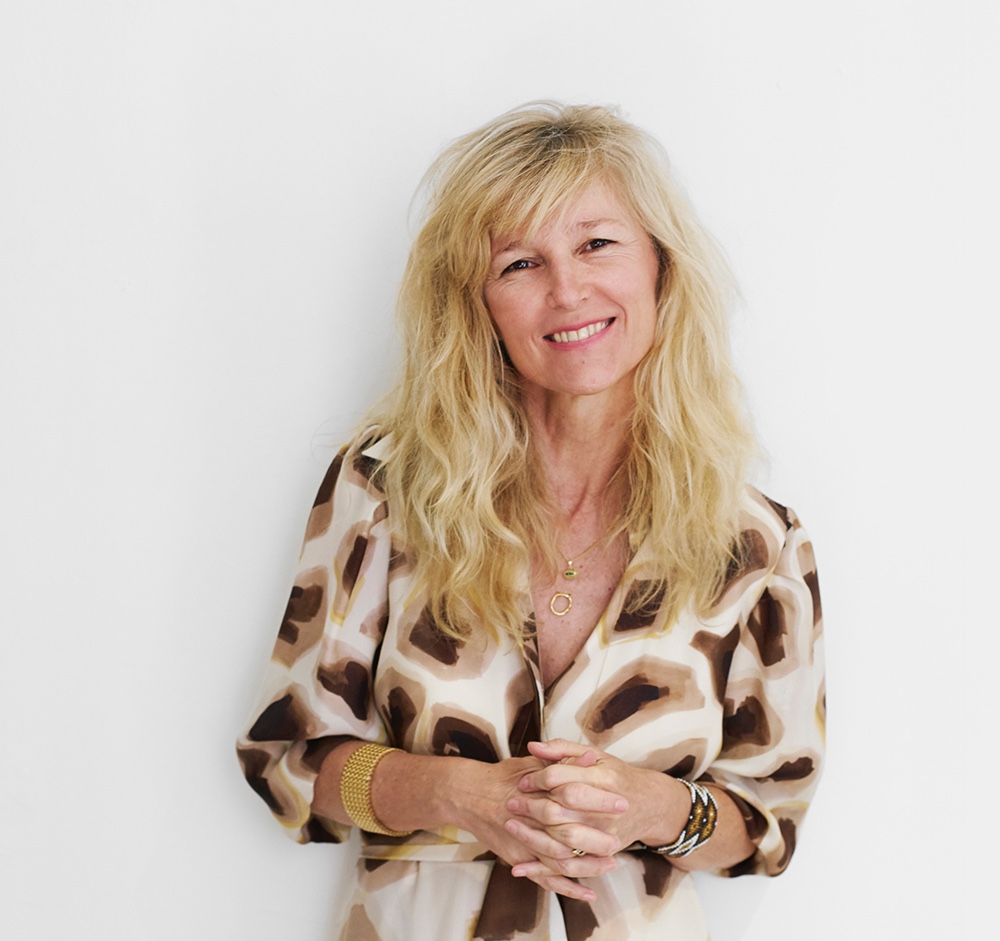 Gudy Herder is an experienced international keynote speaker and trend expert based in Barcelona (Spain).
With consistent in-house forecasting and pattern spotting, the process results in new Trend Reports and packages (4-steps methodologies), released throughout the year by the Eclectic Trends team.
Eclectic Trends is a valuable resource for up-to-date information on the latest lifestyle and interior design trends used as a research tool by companies, design schools, and creative professionals.
Frequently Asked Questions
When do I have access to the digital Trend Report?
The digital report is available on October, 09 at 3pm (GMT+1), and you decide when to start and finish your readings.
How long do I have access to CEREMONY?
How does lifetime access sound? After your purchase, you have unlimited access to this Trend Book for as long as you like - across any​ devices you own.
Do you have a printed version?
Not for this Trend Report. But we would like to hear if you could be interested in a printed book for further editions at
[email protected]
Thanks!
Do you offer trend lectures to see how to apply CEREMONY in corporate environments?
Yes! We know it is not always easy to take the next step and translate the learnings into real products. Workshops can be given to work with design, marketing, and product departments. Drop us a line!
Are you going to publish other Trend Reports?
Yes, we do. Each Trend Book covers a different theme. Please check eclectictrends.com/trend-reports for further information. Thanks!
Can I reproduce CEREMONY in any way?
No, we're sorry! All rights reserved. No part of this publication may be reproduced, distributed or transmitted in any form or by any means, including printing, photocopying or the electronic or mechanical methods, without the prior written approval of the editor, Gudy Herder. This digital book is uploaded, registered,​ and protected by Safe Creatives.
Is there a difference in the complete version of the Trend Report?
Yes. The shortened version comprises 138 pages, and this is almost 40% less of the content. Also, the complete version includes color combinations; the shortened version does not. Additionally, we have included the Materials Guide and a Behind The Scenes Interview in the complete version.​ However, the downsized version still includes the bonus of the worksheets to make it a helpful tool.
THE LEGAL STUFF

All rights reserved. No part of this publication may be reproduced, distributed or transmitted in any form or by any means, including printing, photocopying or the electronic or mechanical methods, without the prior written permission of the editor, Gudy Herder. The publisher has made every effort to accurately gain approval from and credit all parties. Any errors or omissions will be corrected upon notification for the digital issue.